The PAIR Certification Program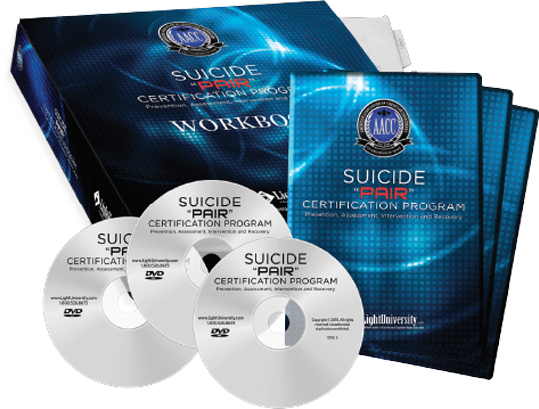 Over One Million Americans attempt suicide annually. 40,000 of those attempts end in death. Each suicide directly effects an average of 6-10 survivors. The statistics are overwhelming. The answer is to PAIR Up. The Suicide "Prevention Assessment Intervention Recovery" Certification Program. This video-based, 12-Lesson Training Program offers effective prevention, assessment, intervention and recovery strategies so we can employ an army of those who will now know what to say when they don't know what to say and know what to do when they don't know what to do. This innovative curriculum offers effective prevention and intervention strategies for caregivers at every level! Cutting-edge techniques include the SAFE-T method and are designed to help educate and equip caregivers to:
More accurately and effectively assess suicide risk.
Create intervention strategies.
Help establish policies and procedures.
Offer systemic and best-practice approaches.
Understand legal and ethical principles.
Become aware of and provide consideration to those with serious suicidal behavior, as well as those who struggle with chronic suicidal ideation.
The Suicide "PAIR" Certification program is a significant cutting edge program for the seasoned clinician, pastor, school teacher, youth worker, medical professional, law enforcement officer, college administrator or student in training—learning and utilizing a systematic and sequential process for evaluating suicide risk will save lives.
This course includes 12 lessons on DVD, complete with comprehensive text and exams taught by our
World-Class Faculty

. Included are two lessons specifically for ministry leaders, educators, coaches and soul caregivers at all levels.